It's obvious we love the new Fiat 500. It's fun, it's stylish, it's Italian, and it just has that certain je ne sais quoi (ok, we know that's a French term, but hey, you know what we mean).
But you know what? There's another car we like even better!…and it's called the Fiat 500 Abarth. You see, Abarth is the performance/racing division of parent company FIAT, somewhat analogous to the M division of BMW or the AMG division of Mercedes.
The Fiat 500 Abarth is like a souped-up version of the regular 500. Not only does it LOOK even better (with its more aggressive styling), but it also PERFORMS even better, with its new 1.4-liter MultiAir® Turbo engine delivering 160 hp (standard Fiat 500 has 101 hp) and 170 lb-ft of torque (standard version has 98 lb-ft), Abarth-tuned suspension, brake system, and dual exhaust.
Remember that movie The Italian Job, where they drove wild anywhere and everywhere in those fast little MINI Coopers? Pfffftt!!…forget those cars!…they should've been driving the Abarth 500, a true Italian machine fit for a true Italian job!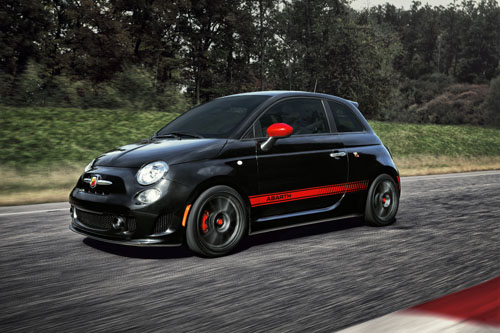 This car is made for the BIG SCREEN! It's a movie star in-the-making. Don't believe us? Well, ok then…we'll let YOU MAKE THE CALL.

Check out this Fiat 500 Abarth commercial. This commercial will capture your attention – we guarantee it! With the 2012 Super Bowl coming up and all those would-be Super Bowl commercial contenders (or should we say "pretenders"?), this would be THE highlight of them all. See for yourself:
At an expected U.S. MSRP of around $22,000, this car is an Italian bargain…lots of return for your automotive dollar, just like any Italian-style family restaurant. You might want to place your order now for the 2012 Fiat 500 Abarth…before those characters in The Italian Job steal them all from under your nose.

Did you enjoy this post? Why not leave a comment below and continue the conversation, or subscribe to our feed and get articles like this delivered automatically to your feed reader.